About April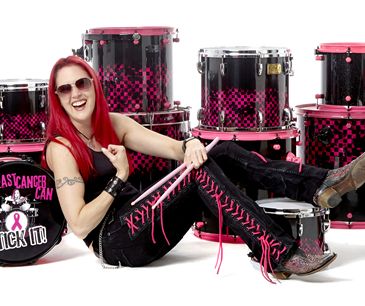 April Samuels
-
Aquarian Drumheads
,
Drumtacs
,
Humes & Berg Drum Cases
,
Kick Lidz Pro Player Art
,
Los Cabos Drumsticks
,
RockNRoller Multi-Cart
,
Sabian Cymbals
,
SledgePad
, and
Wornstar Clothing
endorser - is one of Texas' most sought after players. April picked up her first pair of sticks at age five at
Nadine's Music Manor
and was enthralled in private drum lessons at the same store by the age of 11 studying under former Bo Diddley/Ice Capades/Fifth Dimension drummer
Warren White
. April navigated her teens by playing in garage bands with her guitarist brother, Todd. Later, she expanded her study when she majored in music at the
University of North Texas
.
As she developed her musical style, April co-wrote several songs used in episodes on the show "Outward Bound" on the Discovery Channel. April has since performed, recorded and/or written with 30+ different groups including an album with Matthew Johnson (formerly of Great White), two groups with David Harbour (formerly of Michael Harris, David T. Chastain, King Diamond), two groups with Dave Hineman (formerly of Solinger) and a group with Joey C. Jones.
Since 2012 (aside from a year hiatus from April 2021-June 2022) Samuels has performed up to 120 shows a year across Texas and Louisiana with the 80s spoof-hair-band
Metal Shop
under the pseudonym "Crash Gordon" . Highlights during her tenure included headlining multiple times at the House of Blues locations in Dallas, Houston and New Orleans, as well as playing for over 15,000 attendees at a San Antonio Spurs watching game at AT&T Center.
Samuels' cites her drumming influences as Sean Phillips (
Sister 7
), Carter Beauford (
Dave Matthews
),
Taylor Hawkins
(
Foo Fighters
) and
Matt Chamberlain
(Tori Amos).
In addition to playing drums, Ms. Samuels has been carrying over her rhythmic playing in writing and recording on electric and acoustic guitar in her home studio since 2003.
April's musical interests don't stop there.
She ran a booking agency,
100 Proof Entertainment
from 1989-2010, where she booked over 50 different regional bands - handling as many bands as 13 at one time. Because of this interest, she attended several seminars, exhibits, and music industry functions through the
Dallas Songwriters Association
, Austin Songwriters Group,
South by Southwest
the Sony R&B Workshop, and
NAMM
to name a few.
April has also worked for
Planet Dallas Studios
(Dallas, TX) in the Publishing Department, worked as a salesperson for Texas Beat Magazine (Austin, TX), and was the assistant booking agent for the former club, The Basement (Dallas, TX).
Last, as a philanthropist, April has coordinated, managed, and promoted multiple music-based, fundraising events and raised awareness for not-for-profit organizations including:
Breast Cancer Can Stick It! Fundraising (2010-present) - managed all marketing, promotions and fundraising activities (including booking an extensive line up of celebrity drummer guests)
Deep Ellum Arts Festival (2004-2009) - booked and arranged stage entertainment for multiple stages
Women Rockin' 4 Women (1999-2002) - fundraisers for New Beginning Center for victims of domestic violence (including 8 festivals and 54 shows for Starbucks Home Brewed Dallas Live Music Summer Series)
Harvest Jam (1998) (featuring Digg Dawg (featuring Dave Williams formerly of Drowning Pool) and Andy Timmons (formerly of Danger Danger) - fundraiser for The Austin Street Shelter for the homeless
Currently, Samuels plays full-time with
Metal Shop
, is the touring drummer for
Just Like P!nk - The P!NK Experience
, plays with two original bands (
49th Vibration
and her recently revived band
BULLITT
originally established in 2006), as well as playing fundraisers with her cover band,
The Breast Cancer Can Stick It! Band
. April was diagnosed with a rare, aggressive form of breast cancer in 2010 and immediately combined her passion for drums with her personal fight against cancer by founding her nonprofit organization
Breast Cancer Can Stick It! Foundation, Inc.
. April has been cancer-free since her mastectomy in November of 2010. Through performing shows, collaborating with celebrities for fundraisers, guest appearances and speaking events, April rocks year round both behind and in front of the drums.
Upcoming Events

10:00 p.m.
Scout Bar
18307 Egret Bay Boulevard
Houston, TX 77058
281.335.0002
View Map >>>

9:30 p.m.
Cocktails Bar and Grill
11285 FM 730 N
Azle, TX
817.752.2526
View Map >>>

10:00 p.m.
Fat Daddy's Mansfield
781 W Debbie Ln.
Mansfield, TX 76063
817.453.0188
View Map >>>
Full Calendar